The quality and contents are why we are UPBEAT! We follow the positive side of life in Sothern Oregon and beyond and are distributed in well over 300 locations throughout the Jackson & Josephine County Region in Southern Oregon! Our services to you are to get your positive messages, articles & advertisements out to the public in a timely manner. Our paper arrives and the beginning of Each month and is distributed all at the same time!
+ Printing Public relations pieces

The most popular part of Upbeat Times and why we continue our success is because of the written PR announcements you send us and we print, mainly for free, space permitting. If you are an advertiser, we guarantee free PR up to 400 word and sometimes with photo! Ask us at
pad@upbeattimes.com
or call us at 541-500-9400
+ Food, Gardening, Life, Philosophy, Home & More!

At our newspaper, we like to inspire, educate, entertain and make you laugh. It is one of the most important services we can offer in addition to the good news around our community and beyond. We like to think that we don't just live in Jackson & Josephine Counties, we live on planet Earth. We will never claim to be local because we already are! You as the reader, the business owner and the general public are why we are in business. Anyone is welcome to send us content for others to enjoy in addition to fun and entertaining photos, humor, facts & more to
pad@upbeattimes.com
.
+ Advertising
The great thing about Upbeat Times is the support we get from our ongoing advertisers and new advertisers that join us monthly. They love the responce they get, and sometimes it takes a few times. We get the message out to over 100,000 readers 1 time per month as well as our online version. Contact us at
pad@upbeattimes.com
and we'll gladly get you a complimentary quote or personal appointment.
+ Graphic Design For Free
You don't have to sweat not having the perfect logo or advertisement design. That's what our FREE Upbeat Times graphic design team is for. We'll take your idea and wording and bring it to life, ensuring it is exactly what you want in your advertisement for best results and usually within hours of your request once you decide to advertise.
Our Main Service is...We bring the good news to you!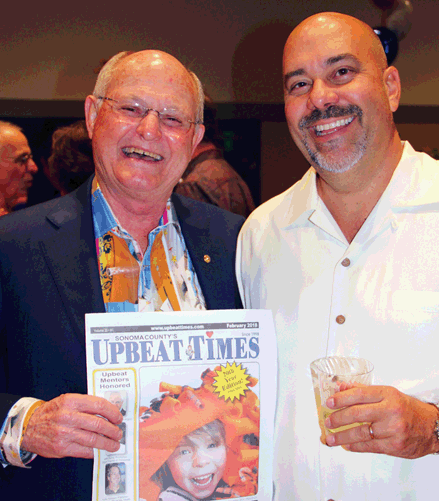 Our Friends, Readers and customers are what truly make the Upbeat Times what it is!
Services of Upbeat Times!



Advertising DESIGN, Advertising Placement & Product Marketing for Businesses